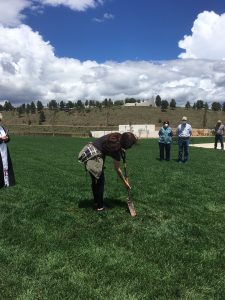 The first interment in the new Angel Fire, NM State Veterans Cemetery, located just below the Vietnam Veterans Memorial Chapel, was held on Monday, July 27, for Darrell Fugett, who had lived in Eagle Nest for many years and was a volunteer at the Memorial.
When possible for a crowd to gather, a Grand Opening Ceremony will be scheduled. At the present time, policy allows for services with up to five individuals in the temporary Committal shelter (a tent) and an additional 20 people can be socially distanced in the area. Currently there are 200 spaces in the Columbarium, 100 spaces for crypts (full body burial), and 100 cremains locations (ashes buried in the ground). There are also spaces to engrave information regarding MIA, lost at sea, etc.
We extend a special thanks to Vietnam veteran Harry Patterson and his wife Brenda for donating the 10-acre site on which the cemetery is built. Special thanks also to others who made this happen, including former Governor Susana Martinez, the New Mexico legislature, the Department of Veterans Services, members of the David Westphall Veterans Foundation Board, and many residents of Angel Fire and other cities throughout the country.
The cemetery is owned by the State of New Mexico and is operated by the NM Department of Veterans Services. It was built to national standards, using funds from a Federal grant program operated by the U.S. Department of Veterans Affairs. The cemetery is open to all veterans. The current construction and equipment cost $3.25 million dollars. An additional $3.6 million dollars has been requested to build a permanent Committal shelter and an Administration Building.
For more information about this cemetery, you may contact Randy Myklebust, Cemetery Supervisor, at 505-225-4341 or randal.myklebust@state.nm.us.