Scroll Down For A Special Event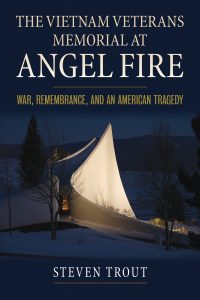 "The Vietnam Veterans Memorial at Angel Fire"
Hardback and Paperback now available in the online store. Focused primarily on the Westphalls' desperate battle to keep their chapel open between 1971 and 1982, the book's brisk and moving narrative traces the memorial's evolution from a personal act of family remembrance to its emergence as an iconic pilgrimage destination for thousands of Vietnam veterans.
Winner, BRLA 2020 Southwest Book Awards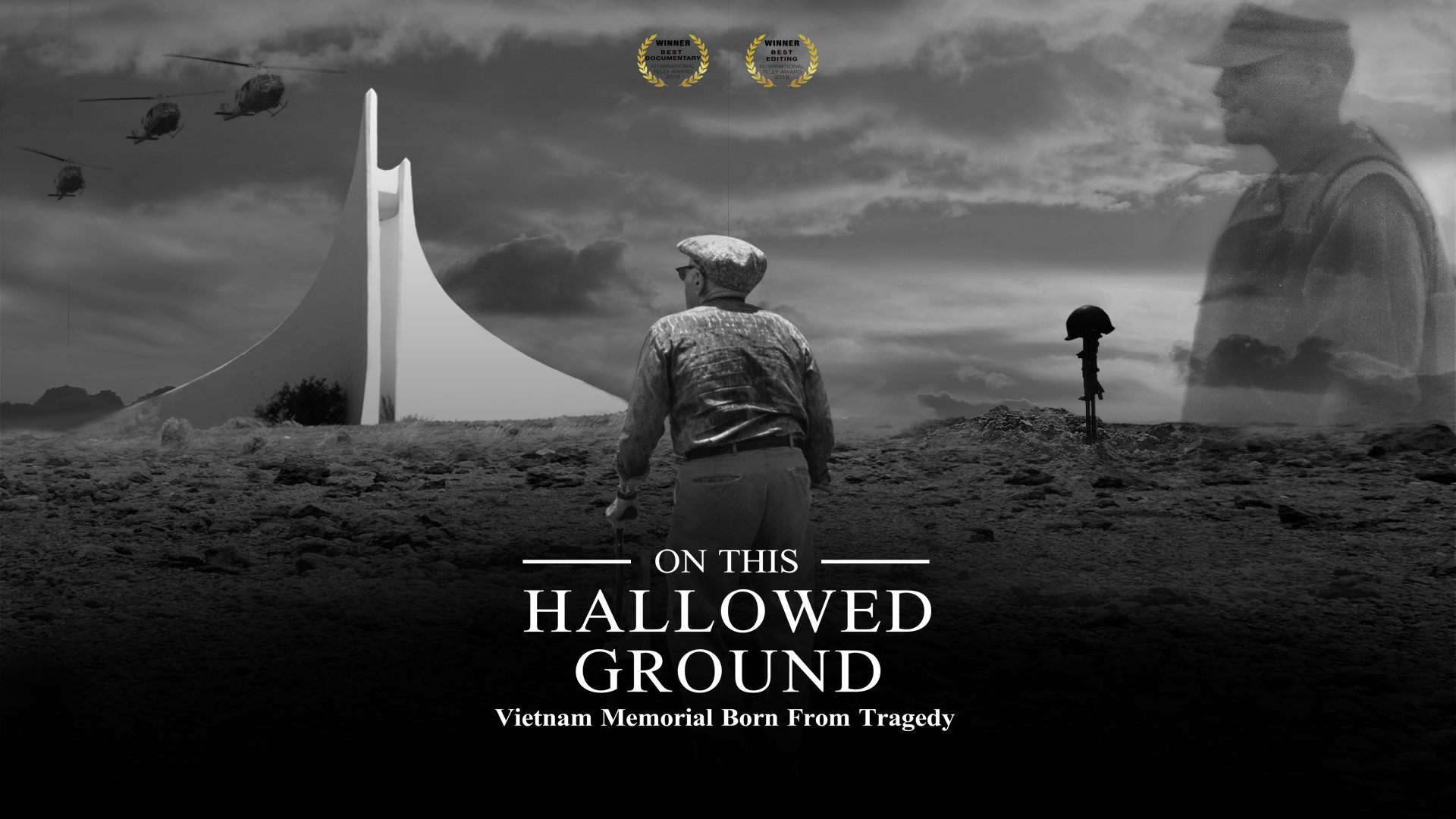 ON THIS HALLOWED GROUND
Stream Online at Vimeo or Amazon Prime! DVD/Blu-ray disk available both online and in the Gift Shop.
Vietnam Veterans Memorial
COVID-19 INFO – As of July 22, 2021 masks are only required for those not vaccinated, and we are operating at 100% capacity. Visitors Center/Museum and the DWVF Gift Shop are open 9:00 a.m. – 4:00 p.m. daily. Chapel & Grounds are open 24 hours every day. We look forward to seeing you soon at the Vietnam Veterans Memorial in Angel Fire, New Mexico.
The purpose of the David Westphall Veterans Foundation is to honor America's veterans and members of its military forces by memorializing the sacrifices they have made and by recognizing the sense of duty and the courage they have displayed as they answered their country's call to arms.
This purpose is achieved primarily by supporting the mission of the Vietnam Veterans Memorial in Angel Fire, New Mexico. Supporting NM Veterans Services in the operation of the Memorial helps fulfill the Foundation's purpose by providing a memorial to veterans and a Visitors Center that serve as a place for reunion, reflection, healing, and sharing of experiences; for educational displays; for Memorial Day and Veterans Day ceremonies; and as a venue for other patriotic events.
The Memorial was originally known as the Vietnam Veterans Peace and Brotherhood Chapel and had its origins in a battle near Con Thien, South Vietnam in which 17 men lost their lives. Among the men, was David Westphall, son of Victor and Jeanne Westphall. Thanks to their vision and determination the memorial exists today to honor not only these 17 Marines but all members of America's armed forces.
All merchandise in the DWVF Gift Shop (except for bricks) will be 10% off through December 24th. Remember us when looking for gifts for family and friends or for yourself. Proceeds from the DWVF Gift Shop go toward raising awareness and providing support for the Angel Fire Memorial and Cemetery. You can purchase in our shop, by phone at 575-377-6900, or online here.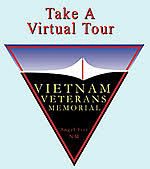 News
First Interment at Veteran's Cemetery
-
The first interment in the new Angel Fire, NM State Veterans Cemetery, located just below the Vietnam Veterans Memorial Chapel, was held on Monday, July 27, for Darrell Fugett, who had lived in Eagle Nest for many years and was a volunteer at the Memorial. When possible for a crowd to gather, a Grand Opening… ...
Please join us in San Francisco on Thursday, January 20th, at the Marines' Memorial Club for a special MEET THE AUTHOR event, when STEVEN TROUT will talk about the book he was inspired to undertake after discovering the Vietnam Veterans Memorial at Angel Fire in 2011.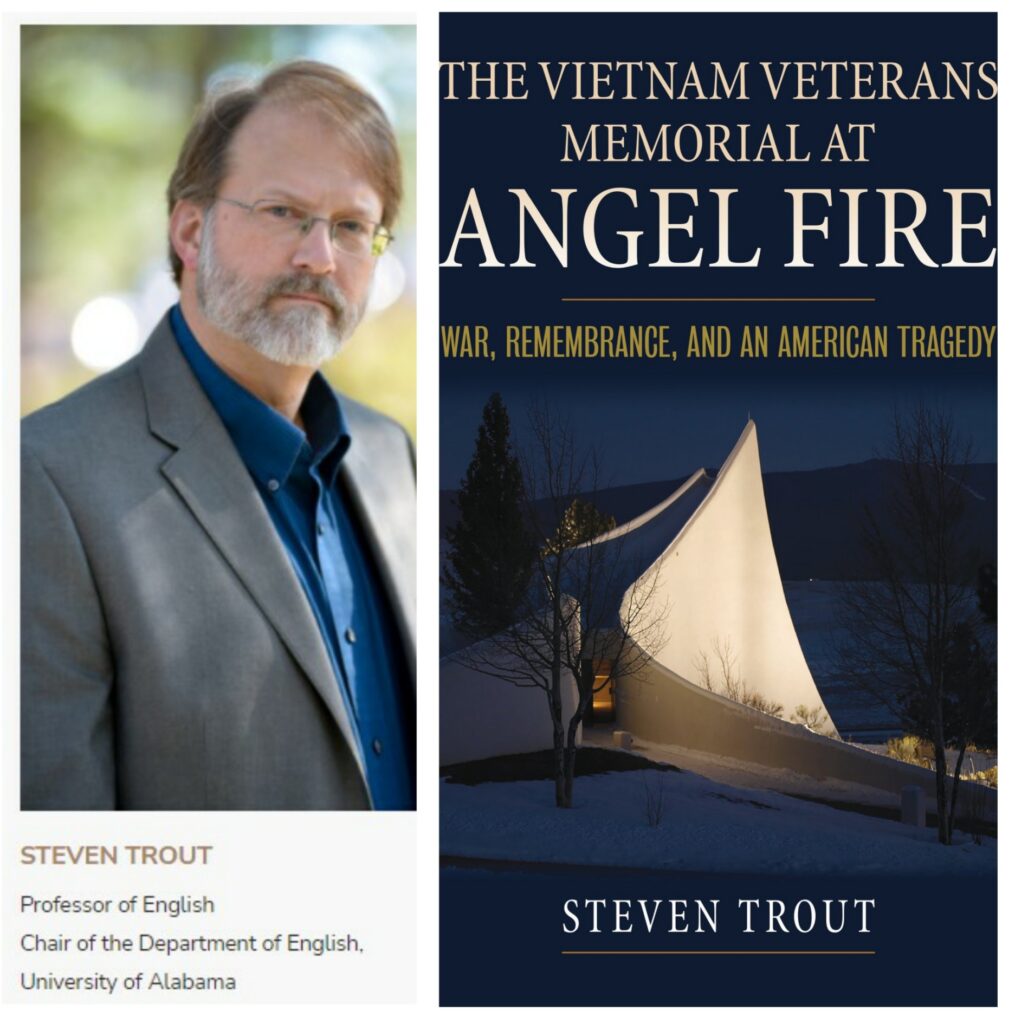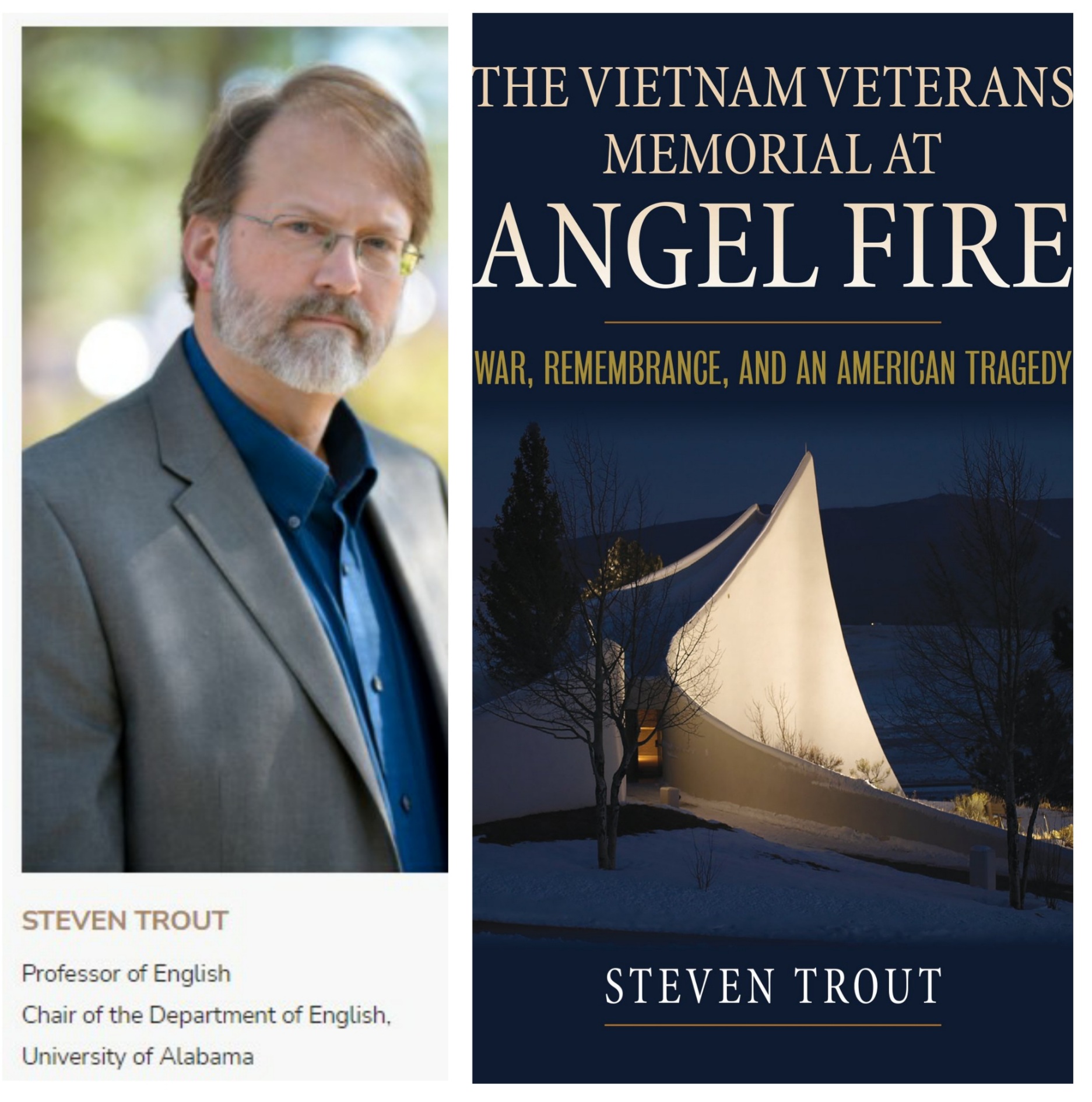 PURCHASE TICKETS & BOOK YOUR STAY HERE:
https://marinesmemorial.org/events/mta-steventrout/
EVENT DETAILS:
Date: Thursday, January 20th — 5:30 pm Doors Open & Wine Reception and 6:00 pm Lecture
Location: Marines' Memorial Club & Hotel, Commandants Room, 10th Floor, 609 Sutter Street, San Francisco
Tickets: $20.00 for Non-Members or FREE for Members
Steven Trout's book "THE VIETNAM VETERANS MEMORIAL AT ANGEL FIRE: War, Remembrance, and an American Tragedy," tells the story of Marine Lieutenant David Westphall, who was killed near Con Thien on May 22, 1968, and of his family's struggle to create and maintain a unique memorial chapel in Angel Fire, New Mexico, which was dedicated to the memory of all Americans lost in the Vietnam War and to the cause of world peace.
The flagship Marines' Memorial Club is located in the heart of downtown San Francisco, just off Union Square and the cable cars. This handsome California Spanish Revival hotel offers an inviting club atmosphere that is rich with history, honor and pride. Owned and operated by the Marines' Memorial Association, a 501(c) (19) Veterans Non-Profit Organization, Marines' Memorial Club is the first ever "Living Memorial" in the United States, offering historic exhibits featuring American military history from all eras, and a library and museum with artifacts and books donated by grateful members, Veterans and their families. Since 1946, Marines' Memorial Club has honored the legacy of military service through a living memorial, hotel and theatre that both serve and commemorate the Veterans of all eras.
The location of this event is especially important, given the Marine Corps legacy of the Angel Fire Memorial. All veterans and friends of veterans are invited to participate in this special event.