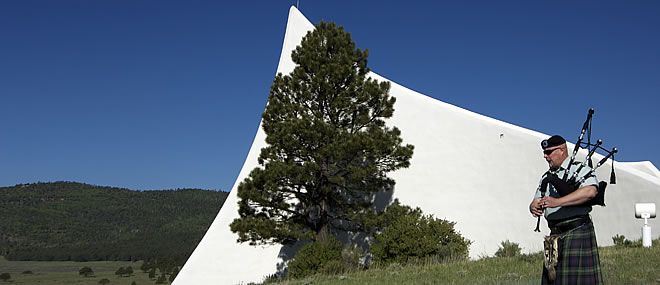 Mission Statement
Purpose
The purpose of the David Westphall Veterans Foundation is to honor America's veterans and members of its military forces by memorializing the sacrifices they have made and by recognizing the sense of duty and the courage they have displayed as they answered their country's call to arms. Fulfillment of this purpose also results in educating present and future generations about the dangers to which free societies are exposed, the responsibilities inherent in citizenship, and the enormous costs of freedom. Because Americans will have to pay the price of freedom for generations to come, the Foundation's objective is to be progressive and dynamic as it fulfills its purpose to honor past, current, and future generations of military service members.
Vision Statement
The vision of the Foundation is increased public awareness of the Vietnam Veterans Memorial located near Angel Fire, New Mexico and expansion of its role in American society by focusing not only on the Vietnam War, but also on all wars in which United States Armed Forces have fought. A guiding principal of the Foundation will always be that military service is to be honored and respected, because until humanity achieves peace, the preservation of freedom will depend largely upon the convictions, the courage, and the heroism of members of the United States military services.
Values 
Values that underlie the Foundation's mission are as follows:
Freedom is fundamental for human progress and happiness, and for the preservation of civilization.
The men and women of the United States military deserve to be honored, remembered, and appreciated for their vital role in the preservation of freedom throughout the history of this nation.
Peace, while seemingly unattainable, is a noble human goal that needs to be valued and actively pursued.
War memorials can serve as a dynamic force in society by showing the impact that war has on society. The most tragic impacts are loss of human life and the maiming of countless others in body and spirit. If a memorial can show those tragic impacts powerfully enough, it can contribute to the pursuit of a peaceful world.
Means 
The purpose of the Foundation is achieved primarily by supporting the mission of the Vietnam Veterans Memorial in Angel Fire, New Mexico. Operation of the Memorial helps fulfill the Foundation's purpose by providing a memorial to veterans and a Visitors Center that serves as a place for reunion, reflection, healing and sharing of experiences; for educational displays; for Memorial Day and Veterans Day ceremonies; and as a venue for other patriotic events.
Adequate funding of the Foundation being necessary to accomplish its purpose, the Foundation will obtain funds for continuation of its support efforts through grants, donations, membership fees, and innovative fund-raising projects and mechanisms.
[Updated 10/02/05]