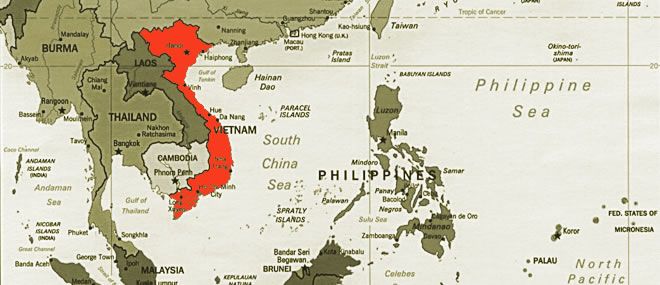 Vietnam War Timeline
3000 B.C.
Legendary Kingdom of Van Lang.
450 B.C.
Migration of Viets to North Vietnam.
111 B.C.
Chinese begin 1000-year rule of Vietnam.
39-43
Trung sisters rebellion.
938
Vietnam gains independence from China.
1407
China retakes Vietnam.
1428
Vietnam defeats China.
1640
Alexandre de Rhodes arrives in Vietnam.
1847
French ships sunk Vietnam Navy at De Nang.
1859
Saigon falls to French troops.
1884
Treaty gives French all of Vietnam.
1906-8
Phan Boi Chau leads peasant rebellion.
1918
Nguyen Ai Quoc at Versailles Conference.
1925
Ai Quoc founds Revolutionary Youth League.
1926
Cao Dai religious sect founded.
1927
Vietnamese Nationalist uprising.
Indochinese Communist party founded.
1930
French Crush Nationalist uprising.
Indochinese Communist party founded.
1940
Communist party outlawed.
Hoa Hao Buddhist sect founded.
1941
Japanese solidify control over Vietnam.
French initiate "Policy of regard."
Vietminh founded.
1943
Nguyen Ai Quoc changes name to Ho Chi Minh.
1944
Vietnam Liberation Army created under Giap.
1945
Vietminh seize power from Japan August 19th.
Ho Chi Minh proclaims Vietnam free September 2nd.
1950
President Truman provides U.S. aid to French military in Indochina;
35 American advisors sent to Vietnam.
1954
Geneva Conference on Indochina.
President Eisenhower pledges aid to South Vietnam.
1961
President Kennedy increases number of American military advisers to South Vietnam.
1964
American and North Vietnamese forces Clash in the Gulf of Tonkin.
Congress grants President Johnson authority to "take all necessary steps to repel armed attacks against the forces of the United States and to prevent further aggression" (Gulf of Tonkin Resolution)
1965
U.S. initiates bombing of North Vietnam.
1968
Tet Offensive.
Johnson orders bombing halt, providing basis for negotiations.
1969
Paris peace talks begin in earnest.
President Nixon calls for "Vietnamization" of the war, orders staged withdrawal of American troops.
1970
U.S. troops enter Cambodia to destroy North Vietnam supply bases.
1971
Secret peace negotiations with North Vietnam begun by presidential adviser Henry Kissinger.
1972
Last U.S. combat troops leave South Vietnam.
Christmas bombing of Hanoi–Haiphong.
1973
Truce agreement signed in Paris, Cease-fire in Vietnam.
Last U.S. military personnel leave South Vietnam. U.S. prisoners of war released.
1975
Fall of Saigon.
Evacuation of American Embassy.