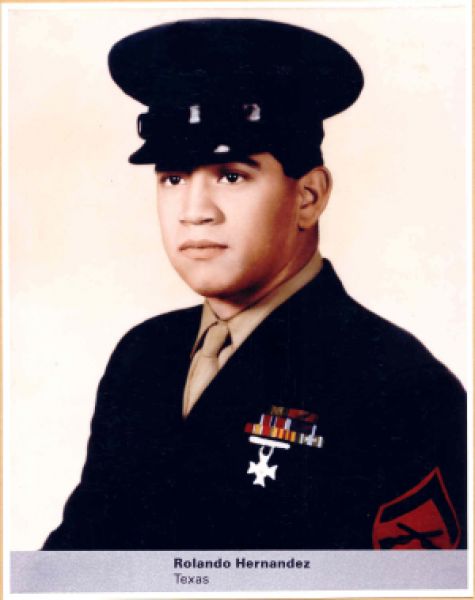 Rolando
R.
Hernandez
U. S. Marine Corps
Marine Lance Corporal Hernandez was a member of the 1st Battalion, 4th Marines, 3rd Marine Division with Bravo Company. He was the son of Mr. & Mrs. Miguel Hernandez of Corpus Christi, Texas. LCPL Hernandez was born on September 26, 1946 and was killed in action on May 22, 1968 in Quang Tri Province, South Vietnam when Bravo Company was attacked in an ambush in Con Thien. He had one month left of his tour at the time.
LCPL Hernandez was married to Janie Hernandez and had a daughter Lisa, who was only three and a half months old at the time of his death. He never had the chance to meet his daughter but was able to know her through photos sent by her mother. Rolando also had a young son Rolando Hernandez, Jr from a previous marriage.
LCPL Hernandez received the Vietnam Military Merit Medal, the Vietnam Gallantry Cross with Palm, the Purple Heart and the Bronze Star Medal. He earned the Bronze Star in the Con Thien ambush. The citation reads in part: 
"Realizing the seriousness of the situation, Hernandez immediately maneuvered to a dangerous exposed position and directed intense suppressive fire up the enemy emplacement. With complete disregard for his own safety he fearlessly advanced toward hostile soldiers enabling his unit to evacuate casualties and deploy for an assault. He ignored enemy fire hitting around him and continued to deliver accurate fire against the enemy until he was killed."
At the time of his death, LCPL Hernandez was 21 years old.
Respectfully,
David Westphall Veterans Foundation
Board of Directors and Memorial Staff