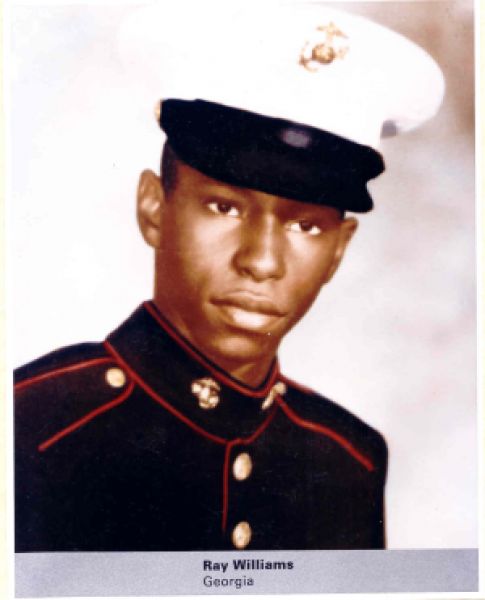 Ray
Williams
U. S. Marine Corps
Marine Private First Class Williams was a member of the 1st Battalion, 4th Marines, 3rd Marine Division with Bravo Company. He was the son of Lucille Williams and brother to Gregory Williams of Atlanta, Georgia. PFC Williams was born on September 11, 1949 and was killed in action on May 22, 1968 in Quang Tri Province, South Vietnam when Bravo Company was attacked in an ambush in Con Thien. He graduated from David T. Howard High School where he was cited for outstanding performance with the ROTC program. He voluntarily enlisted with the Marines in 1967. His mother worked in the home of Mrs. Paul Patton of Stone Mountain, Georgia. Mrs. Patton later wrote a very moving letter to the Atlanta Journal on June 9, 1971 which is below.
REMEMBERS ONE LOST MARINE
The editors: Who among us is wise enough to judge the total wrong or right of the Vietnam war: All we can know for certain is the sorrow and heartbreak.
The Atlanta Journal recently carried a story of a grieving father in New Mexico who built a chapel in memory of his dead son. Inside were inscribed the son's own words about life -"If we are to stand on our feet in the presence of God, what, then, is one man that he should debase the dignity of another?"
The chapel commemorates, also, the other 12 Marines who died in the same Viet Cong ambush in 1968. One of those – and we are proud of him- was young Ray Williams of Atlanta, only 19 years old.
When Ray graduated from high school, where he was cited for outstanding performance in the ROTC program, he volunteered for the Marines. He had always wanted to be a Marine and, among those to die in this war, Ray was one of the fortunate. He served when there was still pride in the military and it made his task easier. His time was before disillusionment and frustration with an endless conflict, came to rob a country and its soldiers of the spirit that makes any war endurable.
Did Ray, somehow, know his time was short? Perhaps so – because he wrote back to his small church,"I want to be remembered." and Ray came home, as have too many, for the taps to sound.
Then we know the saddest truth of all – young men like Ray Williams can't be spared. Today, when so many of his race are bewildered and floundering and so many are lost to a useful life, Ray was needed for the example he was and could have been. He loved his country and his family – and we are less of a nation when we lose, too soon, those who care.
Ray is remembered – here in Atlanta and yonder on a lonely hill in New Mexico. And with the memories Ray will never be lost. He has gone on ahead for a little while to wait for all those who spend their lives doing whatever job there is to be done with patience and decency, keeping the laws of God and man, sure of a merciful judgment when life is done.
MRS. PAUL PATTON
Stone Mountain, Georgia
At the time of his death, PFC Williams was 19 years old and was single.
Respectfully,
David Westphall Veterans Foundation
Board of Directors and Memorial Staff